New Jersey Panel Upgrades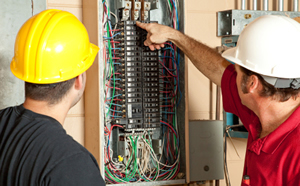 Flickering lights or appliances that are not functioning properly are signs of a problem within your electrical system. Such problems could require professional help immediately and may require more complicated steps to figure out the problem. These are situations that will require a professional South Brunswick electrician to check your electrical service panel to determine if you need panel upgrades. Many older electrical systems do not supply the necessary amount of electricity to power all the appliances of today's homes, therefore you may need an electrical service upgrade. When we perform electrical upgrades and fuse box upgrades, we also upgrade your meter sockets, wiring, and other components to make sure that nothing is holding your electrical system back from functioning correctly.
South Brunswick panel upgrades require knowledge of electrical wiring, systems and function. Anything that deals with electricity should be handled by licensed electrician for safety and security. It is recommended that you have one of our licensed electricians perform your electrical panel upgrade. The electricians at Tavares HVAC LLC are licensed professionals that guarantee great craftsmanship and assure that the required standards are fully met.
Our South Brunswick Panel Upgrades Provides
Panel Upgrades
Service Panel Upgrades
Electrical Boxes
Electrical Installation
Electrical Service
Panel Replacement
Service Panel Upgrade
Breaker Box
Electrical Panel Box
Upgrade Electrical Panel
Electrical Power Panel
Fuse Box Upgrade
Why South Brunswick Should Hire Us For Their Panel Upgrades
With Tavares HVAC you receive Same Day Service so you don't have to wait for days to have your system repaired.  We offer 24 Hour Emergency Services!  Our phones are answered 24/7 by a person, you don't have to talk to a machine to get the service you need.
With Tavares HVAC's up front pricing, there is no guessing game for what the final price will be. When one of our trained technicians comes to your New Jersey home, he will give options on your project and up front pricing for each option. You will decide which option is best for you and approve everything before the work begins. When our technician has completed the work, your bill will not change from what you were quoted...even if the job takes longer than what was expected.
Recent Articles About Panel Upgrades
If you are looking for New Jersey Panel Upgrades, please call us today at 732-668-4100, or complete our online request form.