New Jersey Generators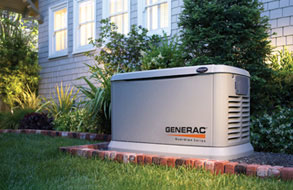 A Spotswood generator gives peace of mind and comfort in case of a power outage. Many people with a dependence on medical equipment are especially served by these amazing machines. Of course, there are other uses for these that many find helpful. Let's take a closer look at these and see if we can learn a little something about them.
Obviously, many Spotswood homeowners and businesses cannot afford to simply ride out power outage after power outage. So, many business owners are installing emergency standby generators in record numbers to protect their investments. Similarly, a homeowner is protecting his or her family by installing a home standby generator that is capable of running the necessary appliances.
The concept is really very simple. Standby power generators are installed outside and will operate just like a central conditioner with two differences. Instead of using a thermostat, they use an automatic transfer switch which monitors your utility power. When it goes out, the automatic transfer switch turns it on, whether you are at home or not, and automatically shuts it off when the power is restored.
Our Spotswood Generators Provides
Generators
Standby Generators
Electric Generator
Home Generators
Commercial Generators
Industrial Generators
Gas Generator
Diesel Generator
Portable Generators
Propane Generators
House Generators
Power Generator
Why Spotswood Should Hire Us For Their Generators
With Tavares HVAC you receive Same Day Service so you don't have to wait for days to have your system repaired.  We offer 24 Hour Emergency Services!  Our phones are answered 24/7 by a person, you don't have to talk to a machine to get the service you need.
With Tavares HVAC's up front pricing, there is no guessing game for what the final price will be. When one of our trained technicians comes to your New Jersey home, he will give options on your project and up front pricing for each option. You will decide which option is best for you and approve everything before the work begins. When our technician has completed the work, your bill will not change from what you were quoted...even if the job takes longer than what was expected.
Recent Articles About Generators
If you are looking for New Jersey Generators, please call us today at 732-668-4100, or complete our online request form.