New Jersey Furnaces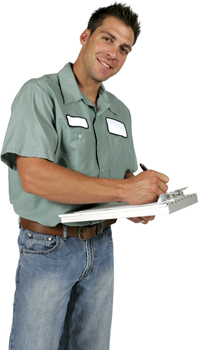 As winter approaches, every East Brunswick area homeowner begins to think about the furnace. Will in kick on? Will it last through another winter? Should we install a new furnace? If so, with what kind? The most important step to take before starting the furnace for the season is to have it inspected by a licensed professional heating contractor.
Furnace Installation / Replacements
Whether you are building your new home or simply replacing your existing furnace, you can depend on our East Brunswick heating contractors for reliable, efficient heating solutions that will last you for years to come.
While it is important to choose a furnace brand with a history of quality, performance, reliability, and customer satisfaction - the brand itself is not as important as the installation of the equipment. If you are in love with a specific furnace brand – Tavares HVAC can get it.
Furnace Repairs
At Tavares HVAC, we have repaired countless furnaces throughout the East Brunswick area. We have the experience and expertise solving any furnace problems you may discover in your home. From emergency repairs to routine maintenance, whatever is required on you furnace, or heating system. Our trained technicians have the skill in providing the prompt and professional service on all makes and brands of furnaces. Our goal in this industry is to provide our customers with prompt and efficient service.
Coleman® Furnaces
A cozy family gathering, a relaxing evening, a quiet winter's morning - your comfort needs change throughout the day. And when a Coleman® furnace is properly matched with a Coleman® air conditioner or air handler, you will enjoy extended system life and maximum efficiency all year around! Learn More
Our East Brunswick Furnaces Provide
Furnaces
Furnace Repairs
Heating Systems
Gas Heaters
Heating and Air
Heating Services
Oil Furnaces
Electric Furnaces
Gas Furnaces
Heating Repairs
Furnace Maintenance
Furnace Installation
Why East Brunswick Should Hire Us For Their Furnaces
With Tavares HVAC you receive Same Day Service so you don't have to wait for days to have your system repaired.  We offer 24 Hour Emergency Services!  Our phones are answered 24/7 by a person, you don't have to talk to a machine to get the service you need.
With Tavares HVAC's up front pricing, there is no guessing game for what the final price will be. When one of our trained technicians comes to your New Jersey home, he will give options on your project and up front pricing for each option. You will decide which option is best for you and approve everything before the work begins. When our technician has completed the work, your bill will not change from what you were quoted...even if the job takes longer than what was expected.
Recent Articles About Furnaces
If you are looking for New Jersey Furnaces, please call us today at 732-668-4100, or complete our online request form.