New Jersey Replacement Thermostats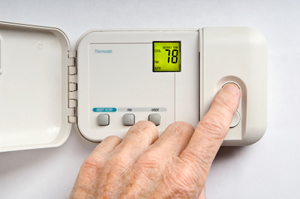 If you think you need a new East Brunswick thermostat, chances are that you do. Many New Jersey homes still use mercury thermostats, which are hazardous to the environment and potentially, your health. Several thermostats are now made to imitate the round, old-fashioned design of the older, mercury-filled thermostats, but exclude the mercury.
Energy cost is another factor to keep in mind. With heating prices on the rise, several thermostats are designed to save energy by a specific percentage through their accuracy and preprogrammed settings. With settings designed for you, your thermostat won't get neglected, and your bills won't suffer. Heating and air conditioning is too expensive to ignore, or at times, forget about. If this is a current problem for your home, you may want to look into a thermostat that specifies saving 33 percent or more of energy.
If changes in the weather, along with constant adjustments to your thermostat, are aggravating you this year, you may need a new thermostat that is more accurate than your current make and model. You should probably be on the lookout for a thermostat that offers accuracy within only one or two degrees. After all, a thermostat is supposed to relay the temperatures to your heating or air conditioning system so you don't have to guess.
Thermostats are usually nothing to look at. Several are simply outdated and can be easily upgraded for one with a touch screen or LCD display. Many contemporary models come in blue or green for aesthetic purposes or even offer soft touch buttons for an overall higher design value. Another good reason to upgrade is for lighting purposes. Many thermostats are made with backlighting or, simply lighted displays, so in dark rooms or at night, you can see the temperature along with your adjusted settings.
Meet the Next Generation Thermostat
Most people leave the house at one temperature and forget to change it. so Nest learns your schedule, programs itself and can be controlled from your phone. Teach it well and Next can lower your heating and cooling bills up to 20%.
Get to know each other.
First, answer a few basic questions. After that, Nest will optimize itself for your system and start learning from your temperature changes.
Teach Nest to save.
Only 11% of programmable thermostats are programmed to save energy, but Nest remembers the temperatures you like and builds a schedule for you. It's so simple that 99% of Nests have schedules. Nest saves the most when you teach it well.
Save while you're away.
With Auto-Away™ Nest automatically turnes to an energy-efficient Away temperature when you're gone. Auto-Away works in 90% of homes, even if your Nest is in a spot you don't pass on your way out the door.
Nest on the go.
Use the Nest Mobile app to connect to your thermostat from a smartphone. Getting in early? Change the temperature miles from home.
Our East Brunswick Thermostats Provides
Thermostats
Smart Thermostat
HVAC Thermostat
AC Thermostat
Remote Control Thermostat
Digital Thermostats
Heating Thermostats
Digital Thermostat
Thermostat Wiring
Electronic Thermostat
Programmable Thermostat
Thermostat Repair
Why East Brunswick Should Hire Us For Their Thermostats
With Tavares HVAC you receive Same Day Service so you don't have to wait for days to have your system repaired.  We offer 24 Hour Emergency Services!  Our phones are answered 24/7 by a person, you don't have to talk to a machine to get the service you need.
With Tavares HVAC's up front pricing, there is no guessing game for what the final price will be. When one of our trained technicians comes to your New Jersey home, he will give options on your project and up front pricing for each option. You will decide which option is best for you and approve everything before the work begins. When our technician has completed the work, your bill will not change from what you were quoted...even if the job takes longer than what was expected.
Recent Articles About Thermostats
If you are looking for New Jersey Thermostats, please call us today at 732-668-4100, or complete our online request form.