New Jersey Coleman® Air Conditioning Systems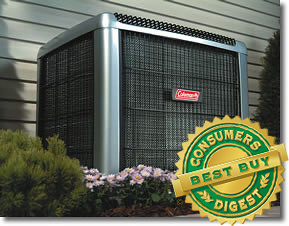 Coleman® comfort is yours all summer long with our split system air conditioner design. This design has two parts: an indoor unit, such as afurnace or air handler, and an outdoor unit. The outdoor unit works by cooling a refrigerant, which in turn cools air in the indoor unit for circulation through your home. Indoor and outdoor units are designed to work together. When the air conditioner is properly matched with a furnace or air handler, you get maximum efficiency and longer system life.
How Do Air Conditioning Systems Work?
A "split system" central air conditioner includes a compressor, fan, condenser coil, evaporator coil and refrigerant. The system removes heat from indoor air and transfers it outside, allowing the indoor air to be circulated and cooled (which is measured by SEER, Seasonal Energy Efficiency Ratio). A central air conditioning system uses electricity as its power source.
The basic components of an air conditioning system are:
A condensing unit (the outdoor section) and the evaporator coil

A matching indoor air handler or gas (natural or propane) or oil furnace with coil

Ductwork to transfer the cooled air throughout your New Jersey home
If you are looking for a New Jersey Heating and Air Conditioning professional, please call us today at 732-668-4100, or complete our online request form.